Yesterday, Monday, February 9, the Ecuadorian newspaper The Telégrafo, published on its website the statements of businessman Alvaro Noboa, who gave a press conference in reference to the news about the HSBC bank.
"I have not, nor have had any account at HSBC", headlined the newspaper in its note, about what were the clear statements of Alvaro Noboa.
The note mentions that businessman Noboa explained that the Noboa Group "makes business in different parts of the world and at the same time these businesses have accounts in different banks around the world."
Moreover, the media refers the assertions of Mr. Noboa, as to the veracity of Swiss Leaks, because it is an independent investigation,ie, it is not made by any organization or authority.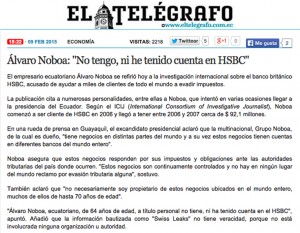 Related Posts via Categories